The characteristics of our organisation and what drives us
Cooperation
Living is something you do with others. When you work, you work with others. And if we don't work with others, we won't be able to achieve our ambitions. We very much need our tenants, stakeholders, suppliers and other student housing providers. We realise that we are unable to think from the tenant's point of view. This is why we involve our tenants in projects. They hold up a mirror to us and can correct us if – despite the best of intentions – we go in the wrong direction. We actively seek cooperation with others because we know from experience that it takes us further. In everything we do, we feel and experience the added value that cooperation brings. It energises us and causes us to grow as employees and as an organisation. This is where the strength of Idealis lies: in cooperation!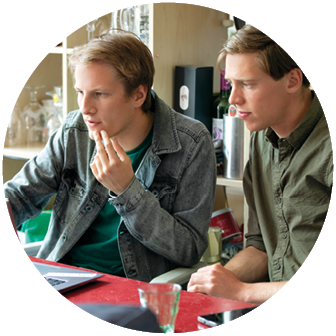 Engagement
We feel connected to our target group and want their time with us to be fun and carefree. This is why we want to take care of as many aspects of housing for students and PhD candidates as possible, so they can enjoy living in our accommodation and focus on their studies, their social life and other activities. We know our target group and know that the support needed varies from person to person. We provide personal contact when needed and deliver tailor-made solutions when requested. We feel this connection not only with our tenants but also with our staff. We are passionate about our work and have fun doing it. Our work goes beyond our own department. All these dynamics result in us putting our hearts and souls into our target group and enjoying our work as we play our social role.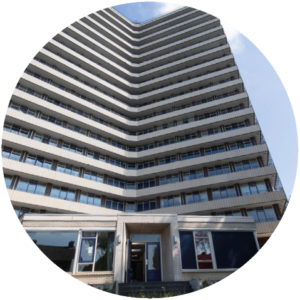 Stability
Stability – is this an exciting aspect of Idealis? Maybe not. But is it a requirement? Absolutely! If we are to serve our target group now and in the future, we need to remain financially sound and minimise risks. We provide sustainable housing of good quality that meets the needs of the target group. And that is quite a challenge, because the needs of our target group are changing rapidly. Working within our margins, we make every effort to invest in improving quality and use our resources for the benefit of our target group. We do all this while maintaining a well-designed organisation that knows what it is doing and knows what it is good at. We have the relevant processes in place and know what is required to house tenants. We serve our tenants from a well-organised base that has a great deal of knowledge. We know Wageningen, Ede and the surrounding area in which we work. Our tenants are short-stay residents and we represent continuity for tenants and stakeholders. We have proven to be solution-oriented and able to respond to any changes that come our way. We are also a stable party for suppliers and other partners to work with. We do what we say.